S3 International
2101 West Camden Road
Milwaukee, WI 53209

Ph: +1.414.351.1506
Fax: +1.414.351.1543
info@s3international.com
CONTACT
S3 International, LLC is an aerospace and defense company that is committed to providing complete logistic support through material supply, OEM distribution and managed supply chain solutions.
S3 International was founded in 2005, offering rapid responses to customers' requirements while sustaining affordability, quality service, and short lead-time. Strategic OEM and manufacturer relationships make it possible for S3 to provide complete airframe and engine support, component exchange pools and continued support for legacy and obsolete equipment.
Certifications
Certified to the Management System Standard: ISO 9001:2015 and EN/AS9120:2016 in accordance with the global standards adopted by the International Aerospace Quality Group (IAQG). (AS9120 Certification)

Aviation Supplier Association Accreditation, Voluntary Industry Distributors Accreditation in accordance with FAA Advisory Circular 00-56. (ASA - 100 Certification)

Materials supplied are fully traceable to OEMS, FAR Part 121/129 major operators and Part 145 Repair Stations complete with applicable OEM, FAA 8130-3 and/or FAA/EASA Form 1 documentation.
​
TRACE Certified: As an active member of the TRACE organization, S3 is committed to full compliance with all US anti-bribery and corruption laws.
Companies can now visit this site in order to search for business partners that have completed TRACEcertified due diligence and to request a copy of our due diligence report.
​
Certified Small Business
​
​
​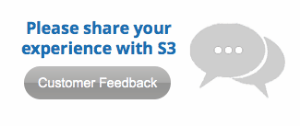 "We are an aerospace and defense professional you can rely on.
S3 keeps you flying and helps to maintain your aircraft from head to tail."