CONTACT
S3 International
2101 West Camden Road
Milwaukee, WI 53209

Ph: +1.414.351.1506
Fax: +1.414.351.1543


info@s3international.com
Products & Services
S3 is the trusted business partner to aircraft operators around the world for the provision of military and commercial aircraft spares and services. We are solution providers for all aircraft requirements — from stores resupply to critical, in-the-field replacements.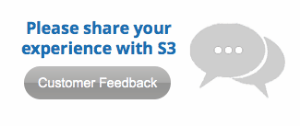 Since 2005, our accredited team has accurately delivered airworthy components to our customers, all while sustaining affordability, quality service and short lead-time. We offer rapid responses to all customers' requirements.
CUSTOMER CUSTOMIZATION
Technical, innovative and cost effective solutions.
ADVANCED TECHNOLOGY
Mature technologies and dedication to continuous improvement.
ON DEMAND RESPONSE
Agile and flexible team that will adapt to suit your needs.
QUALITY GUARANTEED
Providing parts that conform to the highest of industry standards.
LOGISTICS EXPERTISE
Experience that will improve your supply chain management.
POWERFUL PARTNERSHIPS
Network of OEMs and distributors available to meet your demands.
Customer Support
We believe that our customer is our number one priority and are committed to exceeding our customer's expectations by providing superior customer service and innovative solutions for the best value. We are continuously looking for methods to improve our operations and pass along cost savings to our customers without affecting the quality of our products and services.
Our multi-lingual staff has extensive aerospace market
knowledge and experience offering complete logistic
support, material supply, component repair and managed
solutions. We provide a secure online portal, giving you
access to your information 24/7.
Customer requests are made simple
via our custom web portal.
U.S. Export Compliance
To ensure timely delivery to our customers, we have operationalized trade compliance by incorporating trade compliance controls into our processes, which include screening, classifying our products, obtaining appropriate export licenses and filing Electronic Export Information through ACE. Operationalizing trade compliance allows us to efficiently process our customers' orders, while greatly reducing supply chain disruptions caused by failing to timely identify export licensing needs.
Our trade compliance professionals have considerable experience with U.S. export controls and work closely with Sales, Customer Service and Purchasing to make certain our customers' needs are met expeditiously, in compliance with U.S. export laws and regulations.
ELECTRONIC CUSTOMER & SUPPLIER SCREENING
Instant debarment notification of denied parties / persons

Updated weekly from State, Treasury & Commerce
ELECTRONIC FILING
Electronic Export Information (EEI) filings via ACE
LICENSABLE ITEMS & TECHNOLOGY
Products classified to ensure compliance with U.S. export regulations (e.g., EAR, ITAR)
FULL EXPORT LICENSING
Commerce licensing

State Dept DSP-5, DSP-6, DSP-61, DSP-73, DSP-83

Technical Assistance Agreements